After looking at what the framers meant the second amendment for let's see how it should fit into today's modern world.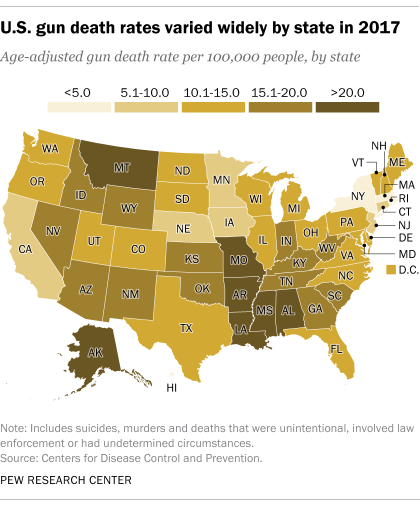 The Scope of The Problem
Before we fall into the trap of sensationalized news it's very important to know the actual numbers so we know how big the problem actually is.
In 2017 the US had 39,000 gun deaths. of the 39,000, roughly 60% were suicides and 3% officer involved shootings and accidental gun deaths, which leaves 37% (14,000) as gun homicides.
With shooting like Parkland, Dayton, Sutherland Springs, and the many more mass shootings that have been in the news the past few years it would seem like it's a major problem contributing to the 14,000 gun homicides. The fact is the about 85 people died in active shooter situations according to the FBI(this number excludes the shooter). If the definitions is expanded to all incidents that involve for or more gun related injuries. The number jumps to 375 fatalities.
Of the 14,000 homicides 64% where committed with a handgun, 4% were committed with a rifle(assault style weapon, like an AR-15, would be included here), and 2% involved shotgun, with the other 30% being unidentified.
Does gun control work?
Looking at the map above a fair comparison would be between Texas and California. Both states have large metropolitan areas along with large rural/agriculture areas to offset the cites. With regards to gun control, looking at just the number of registered guns in the state, California has 8.7 guns per 1000 people, and Texas having 20.8 guns per 1000 people. (Side note: Texas has no registration mandate in its law, and California has a mandatory registration of Assault rifles, and personal imported handguns so both these numbers will be low. This study only counted the 5.2million registered firearms out of the estimated 393 million firearms). Texas and California have nearly identical murder rates even with Texas having twice as many firearms per capita.
There are countless more statistics that could be cited and discussed, to see how the Second amendment fits into today's America. What's your opinion, How do you see the Second Amendment fitting in modern life over 200 years after it was written.